Episodes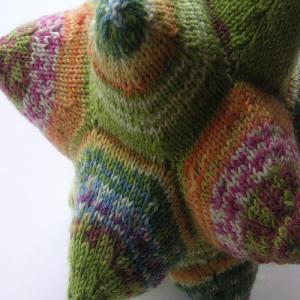 Sunday Nov 24, 2013
Sunday Nov 24, 2013
Hello from Bedlam…. In this episode, I probably repeat myself about some Works in Progress, smile at some crocheted critters and explain what's happening in my world...

Works in Progress
Here's the second pair of Saartje's Booties…

I've worked on some ideas from the Amy Singer workshop and I've worked a bit on a Hannah Fettig Sock Sweater in Hazel Knits Artisan Sock in Chocolatier for another baby in the family.
I've also been working on the Woolly Wormhead Mystery Hat Knit-A-Long in Fyberspates Vivacious DK. Yum!
I've not knit for a week or so because I've been spinning samples from Fiberholics UK into a random bobbin of singles. Suppliers include
Lime Green Jelly
,
Knitter Scarlet
, 
Porpoise Fur
and 
Manda Crafts
.
I'm currently spinning the second bobbin ready to ply with the first.
Last week I went to Manchester and made this:
Impressive, huh? Well maybe not, but here are some really great pieces:
Madness Part 1
I've been dyeing to show you these (groan!)
Breaking News: I now have an Etsy Shop! It can be found at
https://www.etsy.com/shop/YarnsFromThePlain
Madness Part 2:
Aimee from
Knit.Spin.Cake
and I are hosting a knitting and spinning retreat! Thursday 20th to Sunday 23rd February 2014 in Chester. Rooms are £140; however if you would be prepared to share then this price is reduced as the house is a fixed rate. This price covers accommodation for the three nights, food on Thursday night and breakfasts. Remaining meals and the itinerary will be agreed by the attendees later. If you are interested, please PM me on Ravelry (I'm
talesfromtheplain
) or drop me an email at yarnsfromtheplainATgooglemailDOTcom. OMG!
Upcoming Events
Janefrogged on Ravelry has sent up the knitsignal, asking for contributions towards the yarnstorming of Ampthill linked to Fibre East next year. To help out, please contact her on Ravelry or by email at jckclayATgmail.com.
Music
Rondopolska by Barry Philips, from the album
Tråd
, available from
Magnatune
.
Make Contact!
We have a
listeners' map
. Please go on over to pop in a pin - we're covering 5 continents now but I'd still love to see where you all are! Please feel free to leave a comment here or at
http://www.yarnsfromtheplain.blogspot.com/
, or email me at
yarnsfromtheplain AT googlemail DOT com
. We have a Ravelry group
here
, so come on over to chat. You can find me on Ravelry as
talesfromtheplain
and on Twitter as
talesfromplain
.
TTFN,
Nic x