Episodes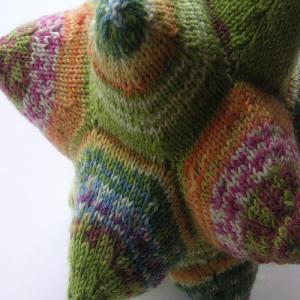 Saturday Oct 12, 2013
Saturday Oct 12, 2013
Hello everyone. Where did September go?


Yarndale
I didn't record any audio at Yarndale, as it was all a bit overwhelming to be honest. I really shouldn't go to shows when I'm a bit tired and wired, as I buy way more stuff than I need or can process into anything else! It was lovely to meet up with fellow podcasters Jo from Shinybees and Aimee from Knit.Spin.Cake. For a full sharing of my goodies, please listen to Episode 12 of the Shinybees podcast.

Finished Objects

In the near two months since I recorded last, I have finished just
one sock
, a test knit. Pathetic!
On the Needles and Hooks
During the second week of the holiday I cast on a
pair of socks
using the
sock stripe yarn from
The Knitting Goddess
that I picked up at Fibre East. These are currently stalled not far from the cuff and susequently mislaid (eek!).
When I got back from holiday I decided to join in the
Mystery Sock-A-Long
on the
APlayfulDay
podcast group, but haven't got far on those because I can't seem to pick up the lace pattern easily (limited details
here
). These are in the same project bag as the stripey socks, ergo they too are missing. Then at the end of August I cast on a
Chevron Pullover
in Noro Kureyon as part of the
Stitched Together
podcast's Craft-Library-a-long. Completed the sleeves within a fortnight but have now slowed down due to limited bandwidth.
On the coach back form Yarndale last week I started crocheting an
Iris scarf
in
NDS
Dazzle HT as part of a kit I bought but this photo was taken once it crashed to a halt over the pale greeny-blue top left. This has now been removed!
Last night I also picked up the 
Dorothy
 in Sublime merino DK that I bought with my prize winnings form Thame Show.
Crafting ADHD? Moi?
Something I Really Like
Parkrun!
Upcoming Events
Knitting and Stitching Show
, 10-13th October 2013, Alexandra Palace;
Crafts From The Dungeon Open Days
, Frodsham, 16th & 17th October 2013
Cheshire Guild Friendship Day
, Frodsham Community Centre, 19th October 2013
Bakewell Wool Gathering
, 19-20th October 2013, Bakewell;
Knitting and Stitching Show
, 21-24th November 2013, Harrogate.
Music
Rondopolska by Barry Philips, from the album
Tråd
, available from
Magnatune
.
Make Contact!
We have a
listeners' map
. Please go on over to pop in a pin - we're covering 5 continents now but I'd still love to see where you all are! Please feel free to leave a comment here or at
http://www.yarnsfromtheplain.blogspot.com/
, or email me at
yarnsfromtheplain AT googlemail DOT com
. We have a Ravelry group
here
, so come on over to chat. You can find me on Ravelry as
talesfromtheplain
and on Twitter as
talesfromplain
(although Tweeting can be sporadic!).
TTFN,
Nic x